Hire Professional Diwali Home Deep Cleaners Part - 1
Posted on September 23, 2018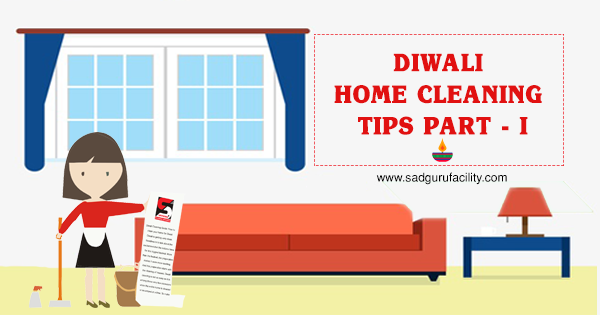 Diwali Cleaning Guide:  PART – I :
How to clean your home for Diwali
Diwali is getting very close. Needless is to talk about the excitement that the Indians have for this biggest festival. More than the festival, the preparation makes it even more exciting. And this preparation starts with the cleaning of houses. Diwali Home Deep Cleaning is not as easy as it is among those very few occasions when the entire home is cleaned or revamped at a time. To make things easy in this regard, given below are some of the useful Easy House Cleaning Tips for Diwali.
Start with the shelf items or smaller ones:
Things can be made easier by trying out the simpler ones first. For this, you need to follow Home Deep Cleaning Tips for Diwali. Just like you try the simple questions first during the exam, similarly, the Diwali house cleaning should also start with the little things placed on the shelf or tabletop. It would make the task easy by lessening the weight on the shelf. Naturally, the shelf gets emptied easily, while the goods over it getting cleaned at the same time.
Wrap-up the cleaning things:
For an occasion like Diwali, people often have got many things to do. No one thus would ever like to repeat the same thing time and again. Hence, rather than putting the goods from which you removed the dust, it would be wiser to cover it with polythene or something like that. This would ensure no further accumulation of dust or dirt.
Start it the early morning after breakfast:
Diwali cleaning is not as easy as it looks. Sometimes people run out of time through the process of cleaning. Hence, it is recommended to start these works very early. Moreover, it would be great to start the work post having a nice breakfast. Working with an empty stomach may not feel good. As the work takes time, people with gastric issues are recommended to have some snacks at least.
While we have covered the main aspects of Diwali Cleaning, some more nooks and corners are still left.
To learn more tips, move to our next blog.
Hire Professional Diwali Home Deep Cleaners
now call 7208091124 or visit https://www.sadgurufacility.com/mumbai/cleaning-services for more information.