10 Simple Steps to a Sparkling Kitchen
Posted on April 30, 2018
Kitchen Cleaning Tips- Part 1
- A woman is the queen of the house and the kitchen her kingdom. And hence it is important that the kingdom remains spic and span. One surprising fact here is that the same kitchen is also home to maximum germs in the entire house, even more than your WC. Yes!! Even more than the WC! So know we know that which part of our house needs most of our attention. Kitchen being the most used space in the house, it definitely needs a thorough cleaning and the ideal thing to do is to hire professional cleaning services at least once in a quarter.  They thoroughly deep clean your kitchen to ensure that it stays germ-free and hygienic.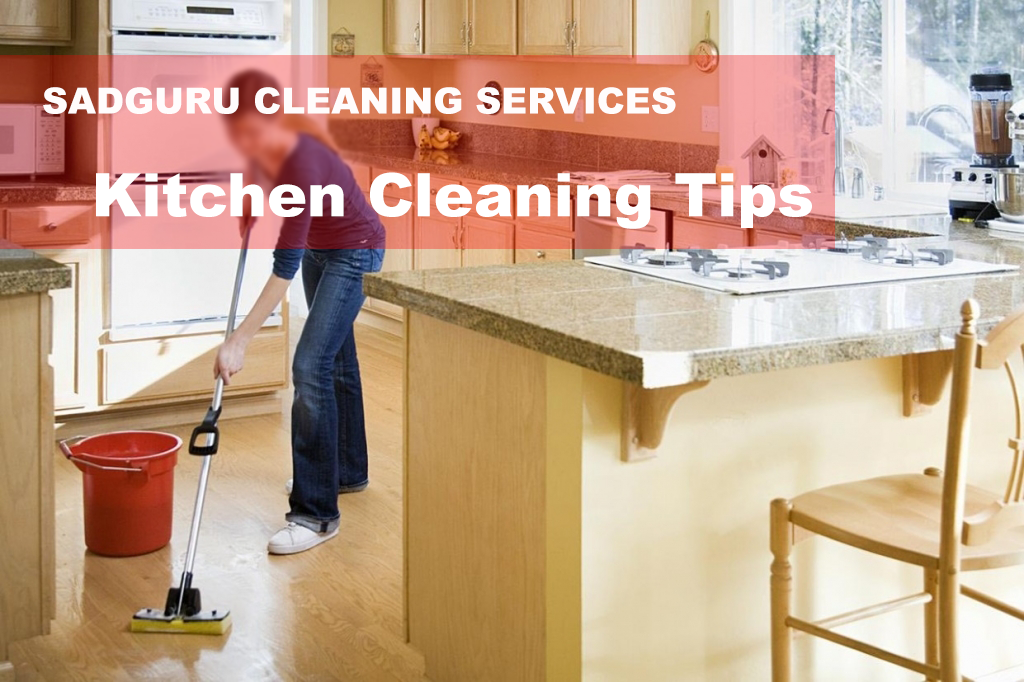 With so much on the lady's plate already, having some tips to clean the kitchen will definitely help.  Here are ten quick tips for a sparkling and hygienic kitchen:
To get rid of the germs in the kitchen napkin, after washing the kitchen napkin, put in the microwave for two minutes and all the germs will vanish.
To get rid of a clogged and smelly drain – pour hot water in your drain and put half a cup of baking soda.
Clean greasy pots and pans by dipping them in hot water and baking soda and a fresh lemon and see grease just slide off.
Kitchen napkins bear the brunt of exposed to all types of food, drink and other dirt and hence they are prone to staining and stinking! Your regular detergent may or may not get rid of the stains and stink but soak it in simple baking soda and vinegar the odour and smell will vanish.
Made kadhai paneer or butter chicken? The result your cast iron kadhai is buried under the grease and fat! A solution is absolutely simple-rub salt on to it and your kadhai is ready to cook another greasy meal.
When you heat food or cook in your microwave, the oil from that food goes and sits in the insides of the microwave. The best way to keep your microwave healthy and fresh is to steam clean the inside of your microwave by heating a bowl of vinegar and water for ten minutes, before wiping it off.
You just ground some spices in your mixer jar and now you want to make a milkshake in the same jar. What do you do with the bits of spices stuck to the base of the jar? Simple. Just put some bread into the jar and grind it. Viola! Your jar is ready for the milkshake.
The fridge is the backbone of any kitchen. And also is an amalgamation of many odour. Sometimes they can get annoying, easiest way to get rid of that is to spread ground coffee on a plate and keep it in the fridge for 24 hours.
Chai is the fuel that keeps every Indian going. But what our favourite chai does sometimes is leaves stain in the mugs. Baking soda comes to the rescue again, leave it in the mug for some time and see the stains magically disappear.
Chopping board is your cooking buddy and this buddy also houses a lot of bacteria. It is important for your health to maintain a clean chopping board, just scrub it with lemon and salt, and your board is germ free.
Ten cleaning tips are not enough for your mighty kitchen. Sadguru Cleaning Service will come up with more very soon. Till then tell us how useful did you find these tips.
For More Information Visit: https://www.sadgurufacility.com/mumbai/cleaning-services OR Call: 7208091124 OR E-Mail: sales@sadgurufacility.com